2003 Dolphin 5320 on Workhorse Chassis

Double slide outs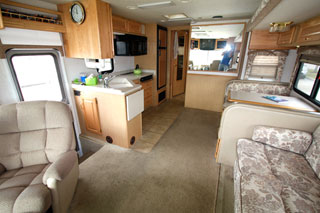 Large slide out with pull out couch and dinette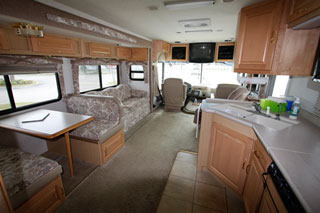 Corian countertop with light maple cabinetry



Large standup shower and bathroom sink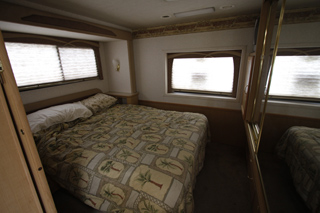 Walk around Queen bed with day/night shades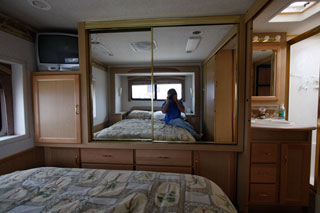 Large closet space with plenty of drawers

Quality construction - no cheap sheet metal doors like in some other RVs.
2003 National Dolphin 5320 Class A
motorhome located in Melbourne, Florida
with all new Michelen XRV tires in Sept 09.
This is a high quality and well maintained Class A motorhome. The unit has just turned 37,000 miles and has an transferable extended warranty thru the end of Dec 2009. The Workhorse Chassis comes with the GM Vortec 8.1 liter gas engine that puts out 340 hp. and is matched with an Allison transmission that is far superior to any other trannie in its class. Gas mileage ranges from 8 to 10 mpg depending on driving habits. The wners manual recommends using 87 octane fuel. The larger 22.5 inch tires and wider wheel base give you a superior ride. Dual stainless steel exhaust adds to the engines efficiency and performance.
Layout & Accomodations: Queen sized bed in rear has twin mirrored sliding doors that open to large hanging closet. Privacy doors seperate bedroom from bath area. Roomy standup shower with skylight and nearby bathroom sink with mirrored medicine chest. Porcelin toilet -not the cheap plastic type. Another privacy door seperates the living room and kitchen from the bathroom and bedroom for an ideal changing room. Full dinette that drops down to a small bed and has sliding drawers on both sides for convenient storage. The pull out couch is very comfortable (no entruding bar) and accomodates two. Lots of storage in overhead cabinets throughout. Rocking recliner is excellent for watching the 27 inch color TV or taking that well deserved nap. Entertainment center also includes DVD and VHS players. The low dog house (engine cover) allows easy access to both the driver and passenger seats which both swivel and lay back.
Tow package includes back up camera that can also be turned on to inspect your tow vehicle if need be. Computor shelf pulls out in front of passenger seat. Recliner has a fold down table as well for eating on or laying out your laptop. 12 volt and 110 outlets throughout.
Two roof mounted Dometic AC units blow through ducted roof vents and leaves you more storage in the basement. Propane furnace runs through ducted heat vents. Choose between the propane or electric hot water heater. The kitchen has beautiful corian counter top base with two sinks and very modern looking light maple wood cabinets. A convection oven can be used for microwaving or baking. The propane stove has three burners with a fold down corian cover. The Dometic two door fridge has seperate freezer with ice maker and runs either on propane or electric.
DC to AC Invertor runs off Two Deep Cycle Trojan batteries enabling you to watch TV without running the generator or plugging in. The Onan 5.5 kw Marquois Gold generator is quiet, reliable and able to run all appliances so you're totally self contained.
Large hard covered awning over entrance side of RV as well as seperate awnings for bedroom, dinette and couch windows. Stylish day or night pleated shades give you privacy.
Unbelievable large basement storage area with pass through in middle. Compartments doors are solid (not cheap tin metal) and each have two seperate locks for securing your equipment. Outdoor shower compartment has hold/cold faucet. Leveling off is easy with the electric hydraulic jacks. Three roof vents with covers. Additional power roof vent with rain sensor.
The Dolphin is known for its vacuum bagged laminated sides and tubular steel framed construction which is normally found in RV's in the $250K up range. The fiberglass roof was recently resealed as per suggested maintainence. New brakes and dash AC compressor within the past year. Just purchased all (6) new Michelen XRV tires in Sept '09.
$53,000.00 obo
Interested Parties Call
321.693.1642 mobile
321.777.8326 home
or e-mail
kevin@surfnrg.com
Pull out couch, entertainment center, recliner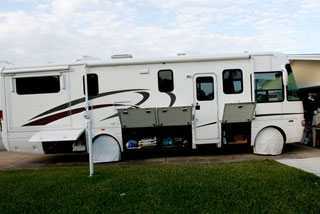 Lots of basement storage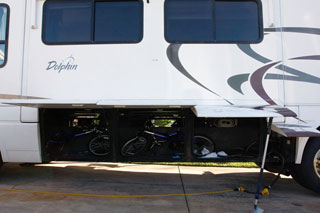 Pass thru basement storage with locks for security